12/19/2016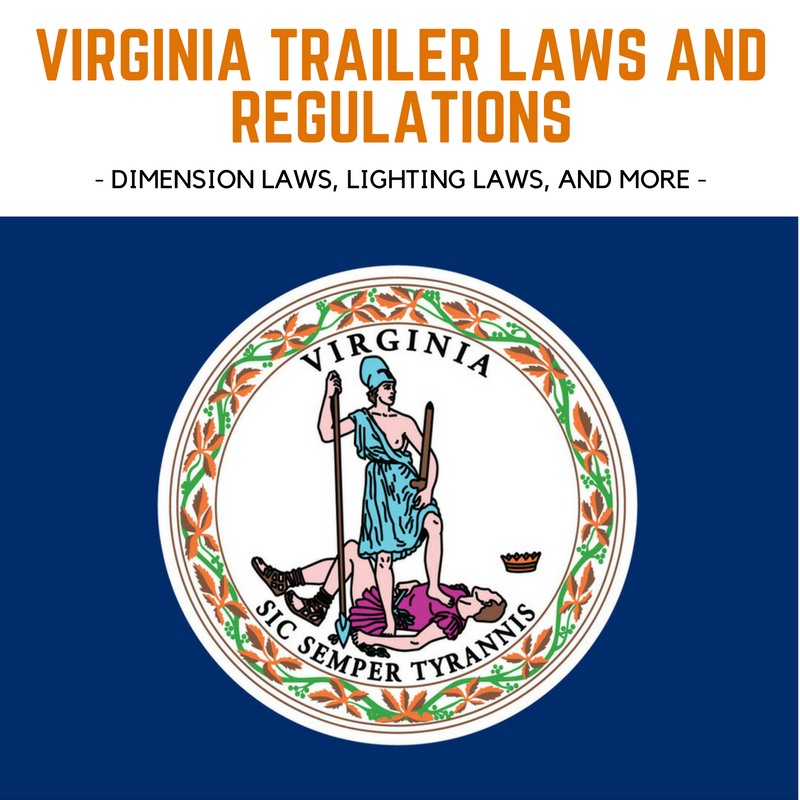 Virginia Trailer Laws and Regulations are listed here:
Virginia Trailer Dimension Laws
Virginia requires all trailers to be within the state's designated trailer sizes as outlined below:
| | |
| --- | --- |
| Combined or Total Length | 65', this includes the coupling in the measurement |
| Trailer Length | 45' |
| Trailer width | 102", though width may exceed 102" if the excess is due to an accessory, tool or other item. |
| Trailer Height | 13' 6" |
Virginia Trailer Attachment Laws
VA towing laws require that the attachment must consist of a fifth wheel, drawbar, trailer hitch or similar device, and that two vehicles must not be more than 15 feet apart from each other while towing.
In addition to the primary attachment, vehicles must be equipped with an emergency chain or cable that can stop and hold the trailer being towed if the primary attachment point fails. Virginia does not specify that the chain must be crossed to prevent the tongue from dropping, but this is good towing practice so it's still important to cross the chains.
Virginia Trailer Brake Laws
Virginia's brake laws are not nearly as complex as other states, they simply state that a trailer must be equipped with brakes if the gross weight exceeds 3,000 lbs.
Virginia Trailer Lighting and Signal Laws
Virginia all trailers to be equipped with at least 1 red brake light on the rear of the vehicle. Said brake light must be plainly visible in clear weather from a distance of 500 ft.
Additionally, a separate white light is necessary to illuminate the rear license plate so that it is visible from a distance of 50 ft.
Reflectors must also be affixed to the rear end of the trailer.
Miscellaneous VA Trailer Laws
Virginia's other trailer laws include speed limits, mirror requirements and more:
Mirrors are required to give you a view of no less than 200 ft to the rear of the vehicle, and it is required to have 1 inside and 1 outside the vehicle. If the trailer obstructs the interior mirror, 2 outside mirrors are required (one on each side of the vehicle).
Those towing trailers may not exceed 70 mph (which is one of the higher speed limits, for towing. Most states limit speeds to 55 mph or lower, which you should probably still follow in this case for both your safety and the lower stress it puts on your towing vehicle).
No person may occupy a trailer while it is being towed on a public highway.
Disclaimer: This is not an inclusive list of laws and regulations and should be used for reference purposes only and not used for any other purpose. Frontier Trailers is not liable for incorrect or incomplete information.